The International Womens Day theme this year is Break the Bias.
I was honoured to be asked to be the guest speaker for international beauty giant Sephora at their Australia and New Zealand Headquarters in Martin Place in Sydney's CBD for International Women's Day aka IWD.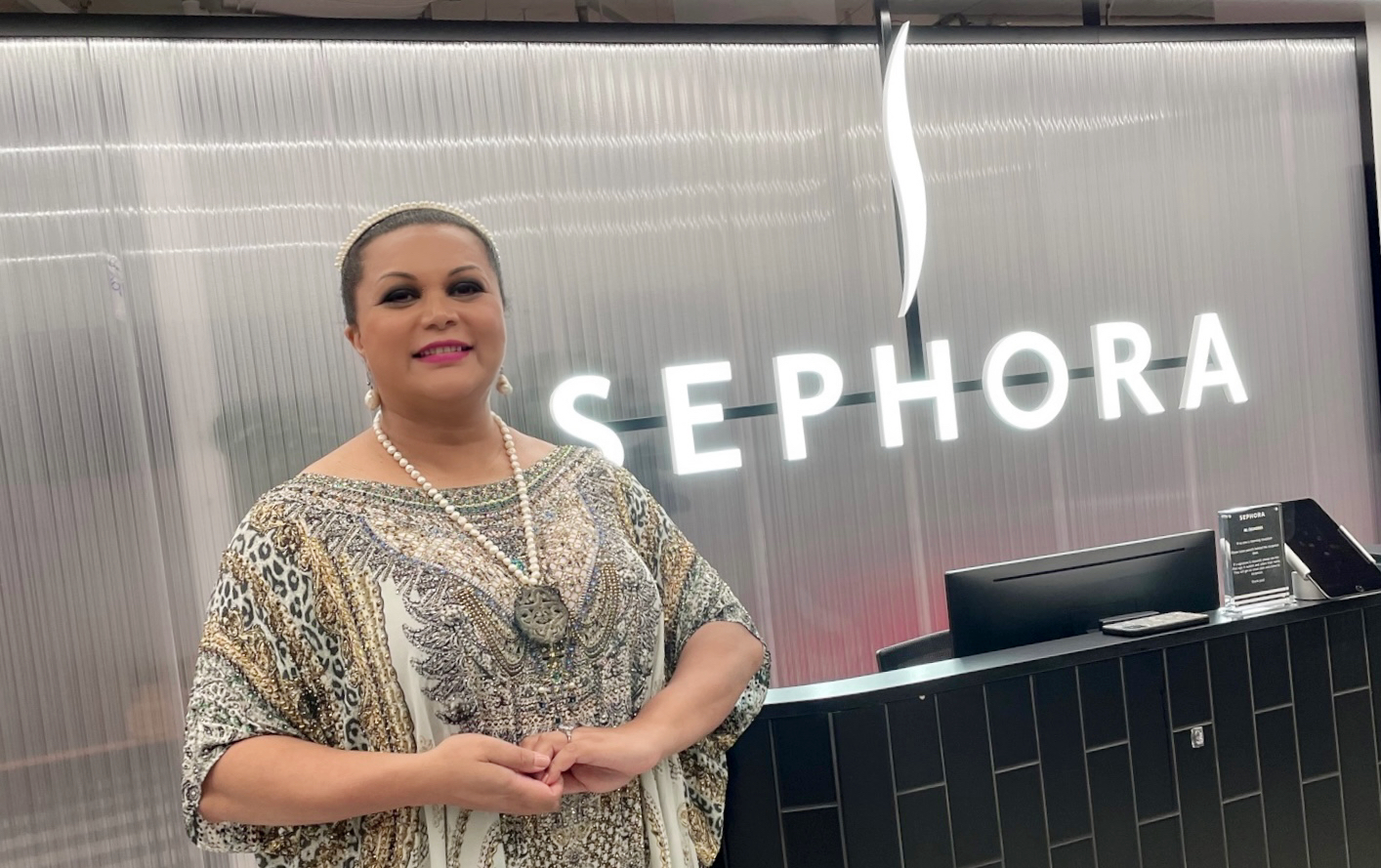 I wanted to put pen to paper about my thoughts about trans inclusion on IWD because life is a collection of thoughts and experiences, and this is an experience that I shall look back on with love.
Sephora is one of the  largest beauty retailers on Earth, with 2,600 stores and  an annual revenue of $US 10 billion, it is a global leader in not just beauty but also business.
Sephora consciously strives to create greater inclusion for all diversity within their company by actively educating their staff through education with diversity events during the year.
When my agent at Saxton called me to ask if I was available to speak at Sephora I immediately said yes, not because they were huge but because I remember seeing their store for the first time when I lived in Paris in 2001.
I remember I was exploring the arcade across the road from my apartment on the Rue de Rivoli beneath the Louvre called the Carousel de Louvre (also a Metro Station) when I was struck by the word Sephora which sounded so beautiful to me, being trans I got to choose my own name which I love but when I saw the name SEPHORA  in lights there in Paris, I had a pang of regret that Sephora was not my name…
I had never heard of the store Sephora but one thing I did notice was it was extremely busy and obviously popular with young Parisian women. It was also in a very good position at one of the exits of the Musée de Louvre.
Sephora is one of those pretty biblical names that when spoken sounds wistful and dreamlike, I was in a cafe only the other day discussing the origin of name when I said "It's such a pretty name, I expect it was a biblical woman standing at a well or some such". As soon as I returned home I had a google, and wouldn't you know it,  she was the woman at the well that gave the exhausted Moses water whom he later married in the Book of Exodus!
I am always asked to speak on transgender and LGBTQI dates -Mardi Gras, IDAHOBIT, Trans Awareness Week, Trans Visibility Day, Trans Day of Remembrance, Wear It Purple Day etc. But this must be the very first day I was invited to speak on a Women's day. This alone was an act of inclusion and breaking the bias on Sephora's behalf, to be included as woman to speak on a woman's day.
IWD is a lovely day in corporate Sydney, Ladies' afternoon teas take place across the city and women come together in solidarity and sisterhood to empower each other and celebrate sisterhood and discuss the needs of women in the workplace and in the home. It is a day for empowerment and solidarity.
Sephora chose IWD as a day to help their staff understand what it is to be transgender a little more, and it was my pleasure to help facilitate that.
I am a seasoned speaker, my client list is very impressive, my very first client was Bloomberg, my second was Royal Bank of Canada and then Bank of America, so I have basically stayed in the very top tier of big business since I first began my consultancy four years ago, but Sephora is my very first Beauty Industry brand – and what a wonderful way to start!
I was telling a shoe designer friend of mine I was speaking at Sephora and for the very first time she was impressed, none of my other speaking events impressed her so I found her reaction interesting. I am dressed by Camilla for special events and when I told the Head of HR I was speaking at Sephora for IWD she was also impressed, I was beginning to understand Sephora must be a heavy hitter in the beauty and design industry. So I suddenly felt very honoured Sephora had contacted my agent to book me for their IWD event, I was honoured they had even heard of me.
The event was to take place both in person and virtually to all stores and offices across Australia and New Zealand. It was very well organised and coordinated from the NZ Head Quarters. I felt very much at ease to be able to present to Sephora ANZ in a few weeks.
I was disarmed immediately when I was greeted at the Martin Place building entrance by the Manager of Australia and New Zealand, Mark O'Keefe. Who's down to earth approach and sense of kindness made me feel instantly relaxed and welcomed immediately, Mark's relaxed English hospitality was much appreciated.
Rashmi Patel from their New Zealand Headquarters managed the tech aspect with strategic precision allowing me to tell my personal story with ease and without hindrance of distractions. I have been delivering my trans awareness programmes via Zoom for the last two years due to COVID-19 so there was apprehension on my part to deliver a presentation physically again, but I am very grateful to move from the virtual space to the physical space with such ease with all thanks to the staff at Sephora ANZ.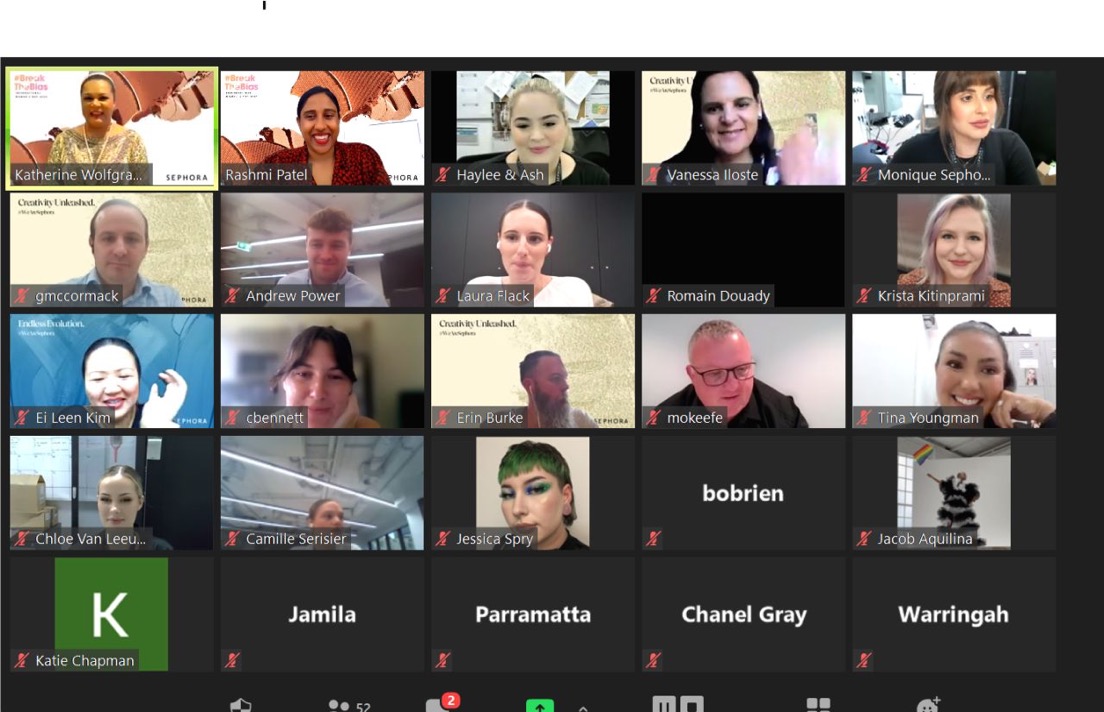 My mantra is to help create understanding for my community and acceptance that we are human and our existence is valid. My way of doing this is to tell my personal story from birth and recounting all the tribulations and eventual triumphs of my journey as a transgender woman, my childhood, my youth, my adulthood and finally my journey to an elder and community leader. I also refer to statistics and laws along the way.
I used to deliver training via graphs and slides, but since I changed it during COVID to a more personal journey the reviews always include  "tears and laughter" "sadness and joy" "powerful" and most importantly of all "Understanding" but because my presentation has always been delivered in the virtual space I have not seen a person cry in front of me while I tell my story until International Women's Day at Sephora. It humbled me to know that my story reaches people somewhere deeper than on a superficial level.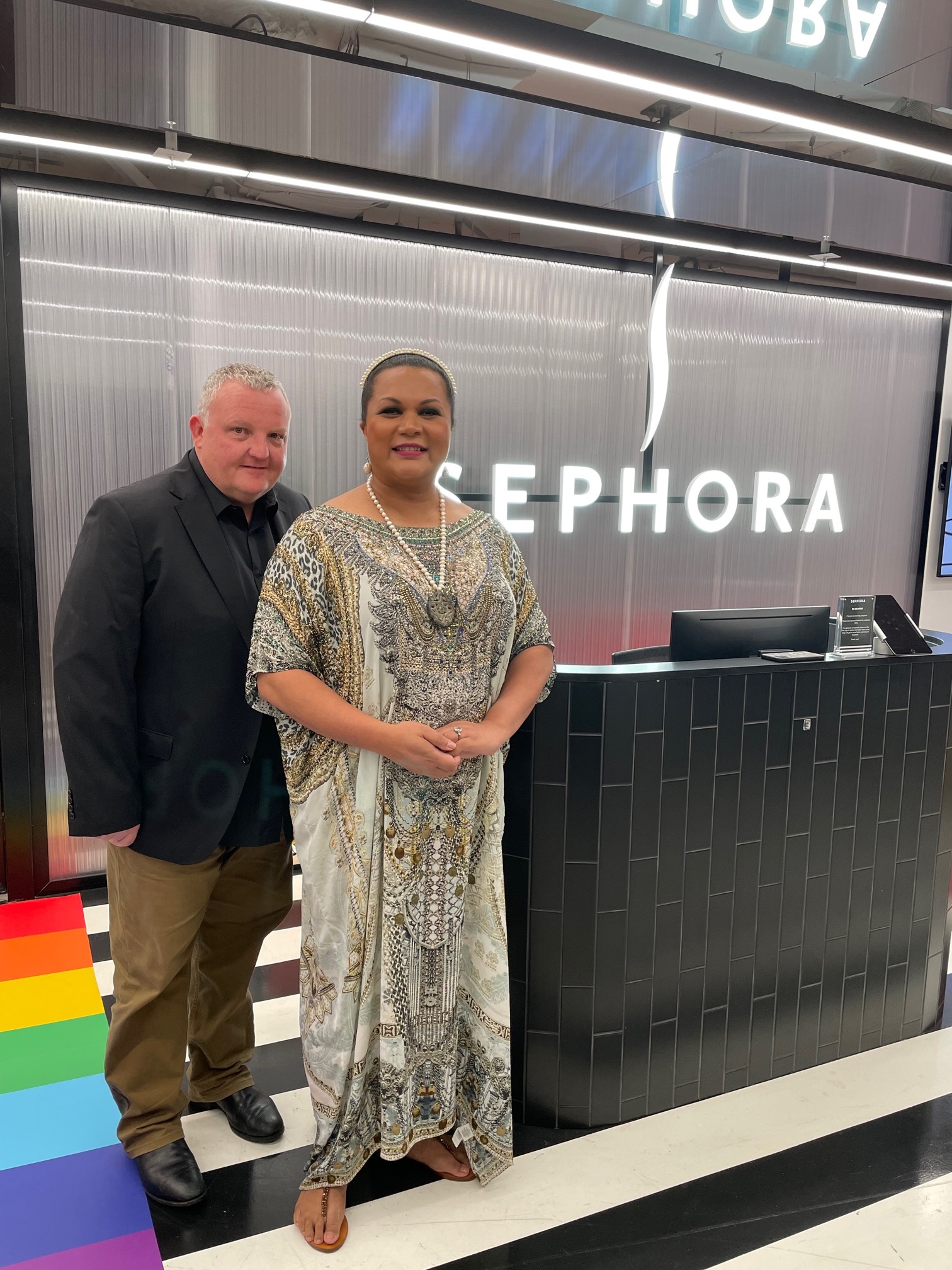 An afternoon tea was organised in my honour after the presentation which was such a thoughtful way to meet the Sydney Staff. I was encouraged to visit the Pitt St flagship store while I was in the Sydney CBD, so after enjoying the generous hospitality of the Sydney office I walked down to Sephora Westfield on Pitt St and was greeted by friendly staff, the store is stunning, and was beautifully decked out for Sydney Gay & Lesbian Mardi Gras by their very talented Visual Merchandising Executive Jacob Aquilina who was also their beautiful model for their Sephora Mardi Gras Campaign
I went from the Sephora store to The Palace Tearoom in the Queen Victoria Building to debrief and treat myself to a lavish afternoon tea and to unpack the fabulous  gift bag I was presented with at the end of my presentation, in five years all I can say is lawyers and bankers never bestow gift bags at their firms but I do hope some of the, are reading this because I suddenly think it should be customary and for very selfish reasons I think it's a fabulous idea!  I am currently enjoying a very lavish array of beauty products I expect will last at least the next two years.. how fortunate am I?
I would like to thank Sephora ANZ for giving me a platform so my voice could be heard and for making my experience wonderful and adding a wonderful memory to my history book. Thank You Again.