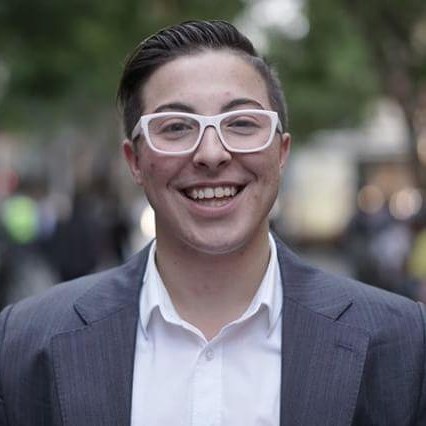 For this month's Gender Whisperer column, Star Observer's Katherine Wolfgramme speaks with non-binary, transmasculine personal trainer and writer Dibs Barisic Sprem.
An online personality test once described 23-year-old Dibs Barisic Sprem as a Labrador, a description they believe to be the shortest and most accurate. In their downtime, Barisic Sprem loves going on adventures with their dog, riding their motorbike, making "banging" playlists on Spotify, and dancing around the house.
When did you transition, and how did you decide on your name?
I socially transitioned to a close group of friends when I was 19, and was then on hormones a few months before my 21st birthday. My name was actually a nickname from childhood. One day, when I was around ten years old, I realised the initials of my long, Croatian, full name spelled out 'DIBS'.
Being non-binary, do you feel you've experienced intersectional discrimination?
During my formative years I identified as straight, then as bisexual, then as a lesbian, and then as transgender. I certainly didn't have a cruisy adolescence, but I also didn't experience the same level of discrimination that a lot of other people have faced in similar circumstances.
How have people reacted to your gender identity?
I have had a large spectrum of reactions over the last four years, ranging from nonchalant to down right transphobic and spiteful. People tend to be very curious and very nosy for the most part. But I don't mind speaking about all of the finer details because education and representation are the keys to removing fear and prejudice of transgender people.
What field do you work in, and how did you go about finding employment?
I like to say that I'm a jack of all trades, and master of some. For the past 14 months I've been a personal trainer, but I always have the odd casual job pop up. It's my dream to be a professional queer and travel around educating people on diversity, inclusion, and kindness, so I dip my toes in speaking gigs when I can. With my current job, I charmed my way through the interview.
My interview skills are partly due to the massive amounts of confidence I got through being a Pinnacle Foundation scholar. The Pinnacle Foundation scholarships are for disadvantaged LGBTIQ youth who are completing their final year of high school or tertiary studies in a private or public institution.
Are you working on any projects this year?
Yes! Mardi Gras season is going to hear my voice a lot. I'm speaking at Carriageworks on February 23 at 'My Trans Story', and I shared a different tale at Queerstories on February 9 at Riverside Theatres. Be there or miss out on some beautiful moments.
Do you think it's easier to be trans for your generation?
One hundred per cent, yes. The stories that I have heard trans elders relay are quite shocking and the documentaries I've watched are really hard to see. Perhaps some cultures who have had trans people seen as spiritual leaders for centuries have felt the opposite effect, as western society reinforces it's views more and more.
But generally speaking, I think my generation is feeling somewhat safer to be out, depending on so many other factors of course. It's crucial that there is more trans representation in the media, and in entertainment. As I said before, it's harder to hate us when you know us so well. The less mystery there is about what it's like to be trans, the harder it is for cranky people to flat out refuse to believe we exist.
Do you have a message for other non-binary people who are thinking of transitioning?
Trust your heart and your gut. There is so much support out there for you no matter where you live. If you have access to the internet, you have thousands of people waiting to help answer all of your questions.
Full Article As Published in The Star Observer: http://www.starobserver.com.au/news/national-news/new-south-wales-news/its-harder-to-hate-us-when-you-know-us-non-binary-transmasculine-pt-dibs-barisic-sprem/176829