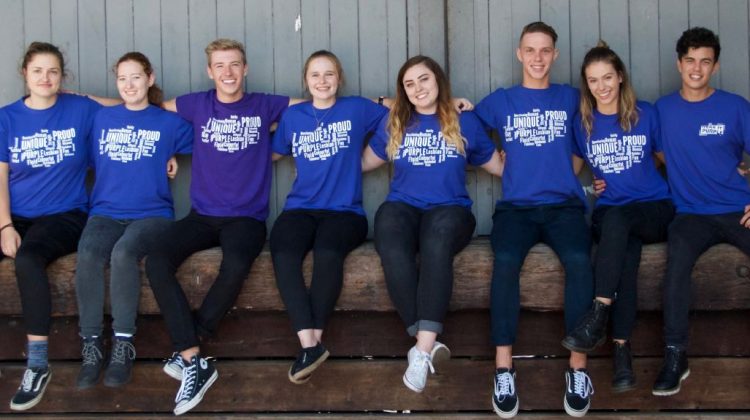 Wear It Purple Day is observed across Australia, the message is simple – If you support uniqueness and diversity in young people wear something purple on Wear It Purple Day to let them know they are not alone.
The mission of Wear It Purple is to foster supportive, safe and accepting environments for rainbow young people, the WIP vision is for rainbow young people to not be disadvantaged by their environments, and for their wellbeing to be equal with their peers.

Wear it Purple is committed to respect diversity and social equality.
The aim of Wear It Purple is to reduce bullying  and the feeling of isolation of rainbow and diverse kids in school by wearing purple.
The Wear It Purple theme this year is Empower Together.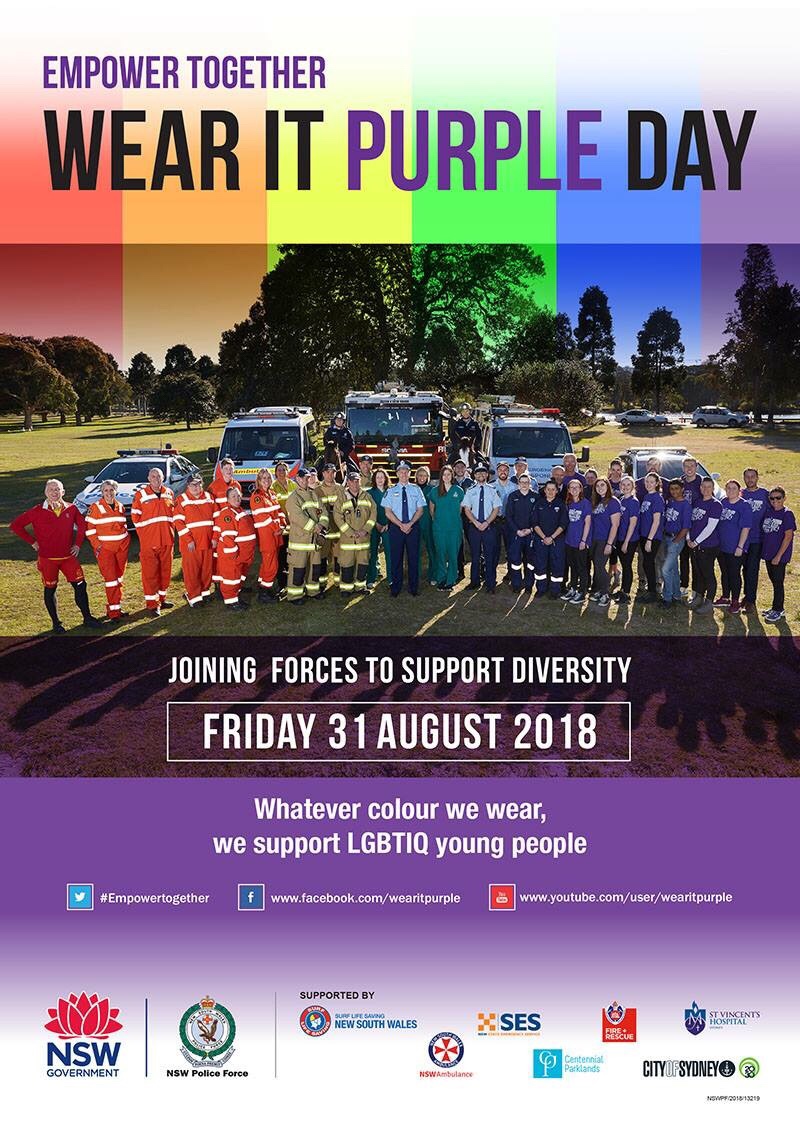 This year NSW Police, Government NSW, City of Sydney,  NSW Ambulance, SES, Surf Life Saving NSW, Fire Rescue, St Vincents Hospital, Centennial Parklands, major national and international Banks, Airlines, Corporations, Sports and Schools across Australia are celebrating Wear It Purple Day across Australia.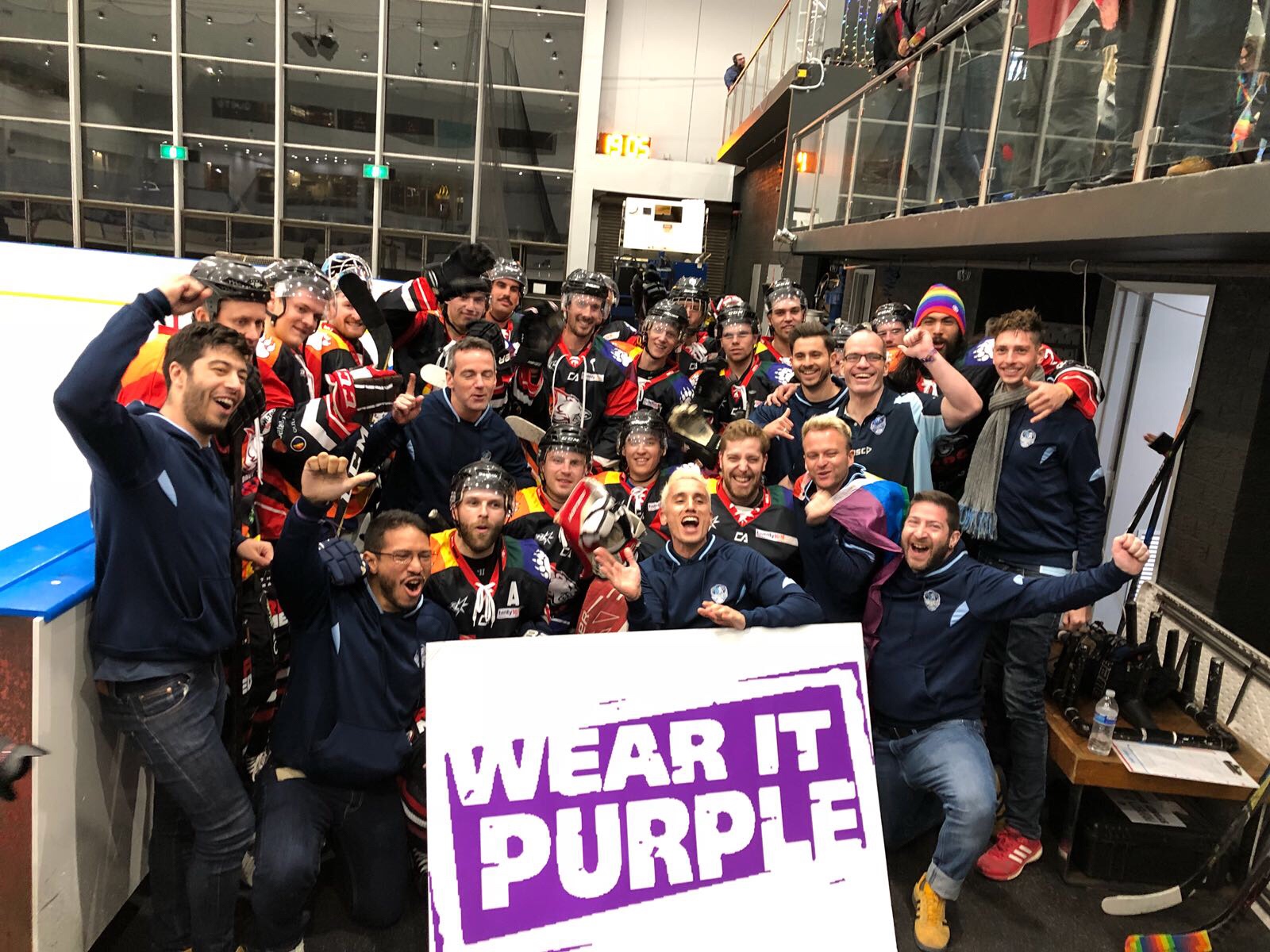 WIP President Matt  Janssen writes "Wear It Purple  was founded in response to the alarming numbers of young people being bullied and harassed because of their sexuality or gender and identity, and were Ultimately taking their lives"
Around 2009/2010 great concern arose globally around the rise of cyber bullying and the young people committing suicide as a result.
One of these young people was 18 year old  Tyler Clementi  who was outed by his room mate online, as a result of the online comments Tyler  tragically decided to take his own life. Tyler's situation was not singular with reports of young people experiencing the same situation globally.
"this needs to be a wake-up call to everyone: teenage bullying and teasing is an epidemic…and the death rate is climbing." – Ellen de Generes  2010
Tyler's death inspired Wear It Purple c0founders Katherine Hudson and Scott Williams to wear purple as a sign of support to all rainbow children and youth growing up different who may feel different or bullied or alone because of their uniqueness, this movement has grown nationally and internationally and continues to grow every year.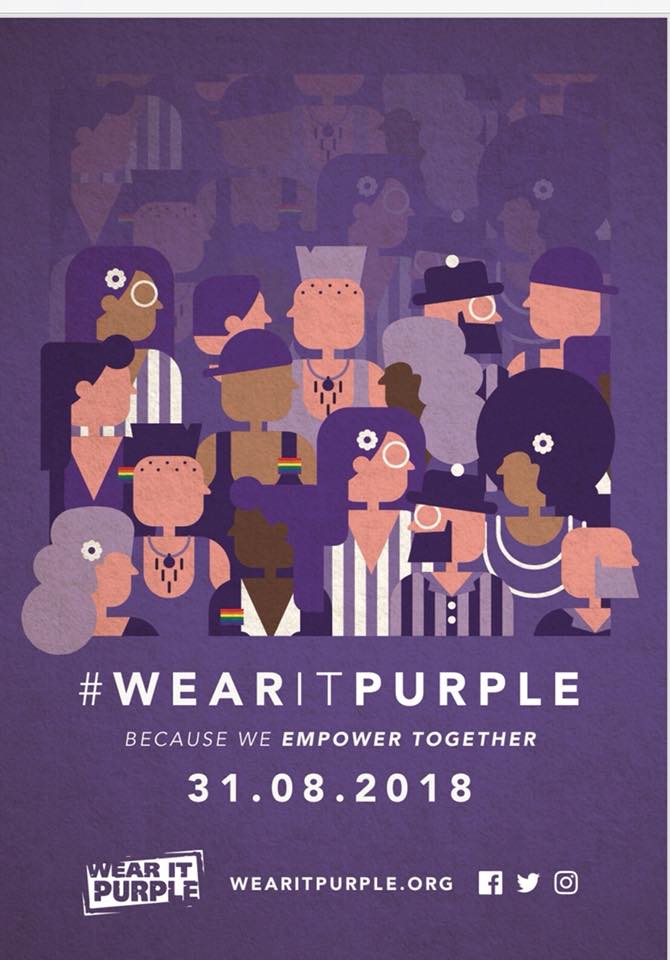 "Wear It Purple is a not-for-profit association that aims to foster supportive, safe, and accepting environments for young rainbow people."  Matt Janssen – Wear It Purple President
This year the Wear It Purple Board Members are: WIP President – Matt Janssen, WIP Secretary Marc Field, WIP Treasurer – Mark Henry, and WIP General Board Members – Alex Stefan, Gemma Allen, Ross Wetherbee, Brock Galway and myself, Katherine Wolfgramme.
Our Wear It Purple Ambassadors are comedienne, singer and advocate Jordan Raskopoulos, actors Scott Lee, Lynne Mc Granger, and Harry Cook, Australia's Young Person of the Year  Georgie Stone, Mr gay World Jordan Bruno, comedian Tom Ballard and LGBTI advocate Casey Conway.
If you wish to support Wear It Purple Day by wearing purple, buy merchandise, wish to donate, host an event on the day,  or seek further information here is the link: http://wearitpurple.org