In my capacity as Ambassador of The Gender Centre I was invited to speak at Rainbow Families' event held at Sydney Park last Sunday May 26th to help launch their new Trans and Gender Diverse Parents Guide.
The guide was created by Rainbow Families because there was no resource available to help trans and gender diverse parents and their young families
The organisation self funded the book and launched the guide at their major annual International Family Equality Day Event at Sydney Park.
To download the Trans and Gender Diverse Parents Guide click here: https://www.rainbowfamilies.com.au/trans_and_gender_diverse_parents_guide_released?fbclid=IwAR0RL07EiopO5aSOEhjH7tA87SGyS3MxUhPUZRtUrFqy6Pz3tZiGLrz0aa8
Below is the transcript of my speech.
My name is Katherine Wolfgramme, I have come in my capacity as The Ambassador of the Gender Centre, Australia's oldest peak trans related welfare organization serving transgender children , youth, adults and Trans Seniors, their families and partners. Around areas ranging from casework, counselling, peer support groups, advocacy, and emergency and transitional housing for the last 37 years.
I would look like to begin my speech by reading you a message from the Director of the Gender Centre, Phinn Borg
 "Parenting is difficult at the best of time. Parenting as a trans parent is a whole other level of challenge and complexity. So, I would like to acknowledge your hard work. Your love and dedication. Being trans is hard. Facing discrimination. Trying to get on with life when sometimes the hardest thing to do is walk out the front door. When you're a trans parent you have to be brave enough to face discrimination, while also finding a way to be the best you can for your child or children."

Phinn Borg, Director of The Gender Centre
As Ambassador I would like to say that we at the Gender Centre congratulate you on the launch of the Trans and Gender Diverse Parents Guide, we believe this is a thoughtful, informative and generous initiative and The Gender Centre's door is always open to all gender diverse people and their families.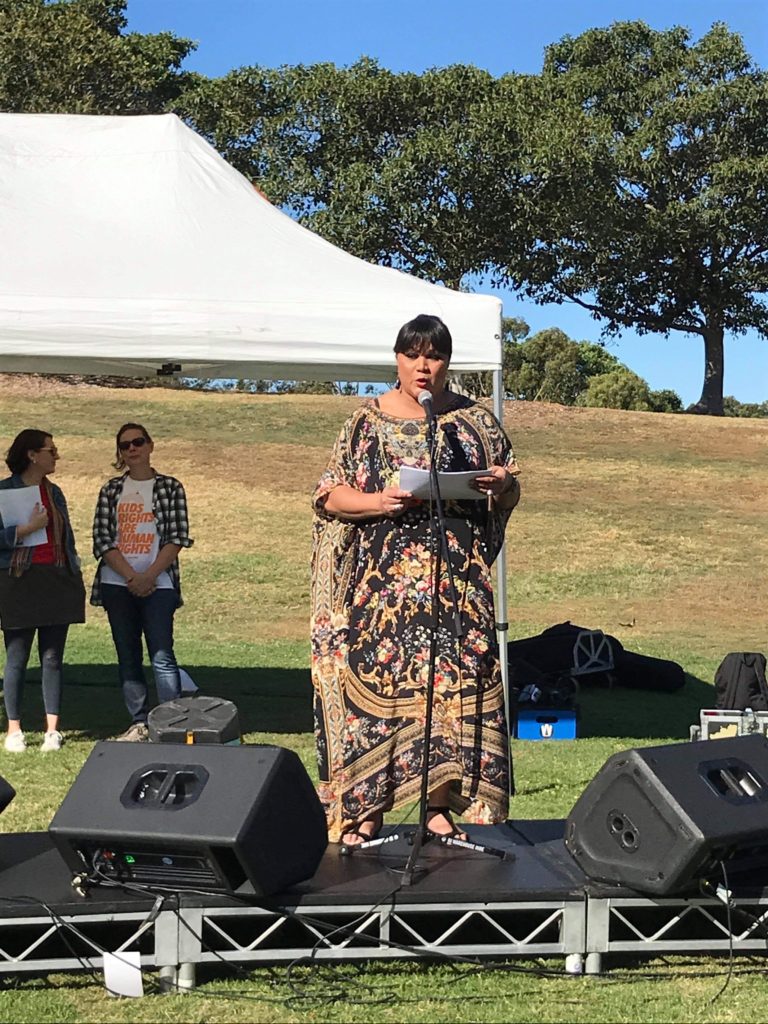 For those of you who do not know me, I am also an outgoing board member of Wear It Purple, and  in-coming Board Associate of The Sydney Gay & Lesbian Mardi Gras, columnist at Star Observer and award winning Gender Diversity Consultant and Trans Activist….. In my spare time… I can be found on the weekends among my people working at Stonewall Hotel.
I am 47 years old and I transitioned nearly thirty years ago, next year will mark 30 years as Katherine, and in that time, I have witnessed great changes both socially and fundamentally for the LGBTI Community.
Never once did I imagine I would come and  speak at  an event where people from my own gay family have real children, and children on the way.
Never did I imagine that I would see a time when I personally could legally marry, have children or have any equal rights for that matter. I have done neither, but it feels wonderful that it is now recognized as my choice now.
I did not foresee anti-vilification and anti-discrimination  laws would be specifically written to protect transgender people, nor did I ever expect to see transgender employment equality or trans related policy changes in the work place or transgender identifying children openly access education – or live to see a day where their parents stand by them and protect them.
We live in very modern times, and we have come so far.
To understand this renaissance for transgender people, we must rewind 30 years and see what Gay & Lesbian people were doing. Some of you here may remember this time, and I ask that you please forgive me as I continue in the third person, but they were going through the same levels of growth then, that we the transgender population are going through now. Thirty years ago our rainbow allies were fighting for employment equality and the right to be legally recognized as equal.
Now that you are strong, our Gay & Lesbian Allies have come forward to empower the trans populations by providing support, empowerment and giving us a platform to be heard. And most importantly an equal place in our beautiful LGBTI Community – this is what I understand to be the definition of inclusion.
And a beautiful example of inclusion is the program Rainbow Families are launching today specifically tailored to support transgender people who are parents with children. On a side note – and not as an ambassador, but as a human, speaking with other humans, I would like to say Thank You. Thank you for including transgender people whether child or parent and their families into your groups, and thank you supporting us and including us.
Strong Families Are Built On Solid Ground. Our Roots run Deep and Our Branches Spread Far and Wide to Catch the Sun So We Can Nourish and Bear Our Much Yearned For Fruit, Planted With and Protected by Our Love.
I would like to lastly finish by saying that I am so proud of all of you and the families that you have created against all odds, I send you my love and my strength, and if there is anything that I can do, please reach out to me and if it is in my power, I will do anything that I can to help. 
Congratulations, all of you for launching the Trans and Gender Diverse Parents Guide, and Happy International Family Equality Day.